12 Dec

What Should You Look For In A Commercial Painter?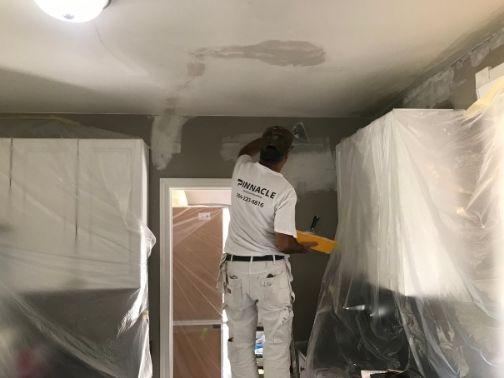 Even if we don't want to admit it, many of us judge books by their covers. And oftentimes, we judge a business by the appearance of its storefront. 
Is it time to repaint your business? If so, you're probably looking for a reputable commercial painter.
Think about how often you'll notice the paint job. If you plan to paint the exterior and/or interior of your business, it's something you'll see almost every day. Taking the time to find an experienced and professional painter will definitely pay off. 
You can't trust just anyone with this task. How do you find the right painter for your next project? While you're searching for a qualified contractor, be on the lookout for these things:
Experience With Similar Projects
Even if that painter has extensive experience painting interior walls, that doesn't necessarily mean they know how to paint a stucco exterior. 
If a business has a portfolio on their website, take a look at their other projects. Do they typically do residential or commercial work? For the best results, try to find a business that has experience with your particular industry. 
Insurance & Training
What might happen if a painter is injured on your property? If they aren't insured, you could be liable for any damages. Make sure to find a commercial painter that's fully insured
At Pinnacle Painting, all of our employees are bonded and insured. We also perform extensive background checks before hiring a new staff member. Through this rigorous hiring process, we ensure that every client and painter is protected. 
Next, be sure to inquire about the level of training the painter has. What are their credentials? How many years of experience do they have? Will you be working with students? 
Online Reviews
On a company's website, they'll make all sorts of claims about their high-quality work, reliable service, and satisfied customers. But how do you know if they're telling the truth?
Online reviews can tell you a lot about a business. By reading customer reviews, you can learn things like:
Was the work completed on time? 
Were the painters friendly and professional? 
Did it cost more than the initial quote? 
Check several review websites to determine if a painting business is reputable. 
Finally, remember to take online reviews with a grain of salt. Research shows that it's much more likely for an unhappy customer to leave a negative review than for a happy customer to leave a positive one.
Cleaning
Painting is a messy business. Once the product is applied, you're left with dust, drop cloths, and an array of tools. 
The last thing you want is a painter that leaves a mess behind, especially at a commercial business. An untidy storefront leaves a poor impression on your clients. Not to mention, the time you spend cleaning can reduce your productivity. 
Don't let messy painters interfere with your business—instead, work with a company that cleans up once they're done.
At Pinnacle Painting, we offer commercial painting services in Winnipeg. From stucco painting to interior paint jobs, we do it all. Take a look at our portfolio to see examples of our previous work.
Interested in receiving a quote? We're happy to help. For more information, contact us today.