25 Apr

What Is A Drop Cloth & Why Do You Need Them?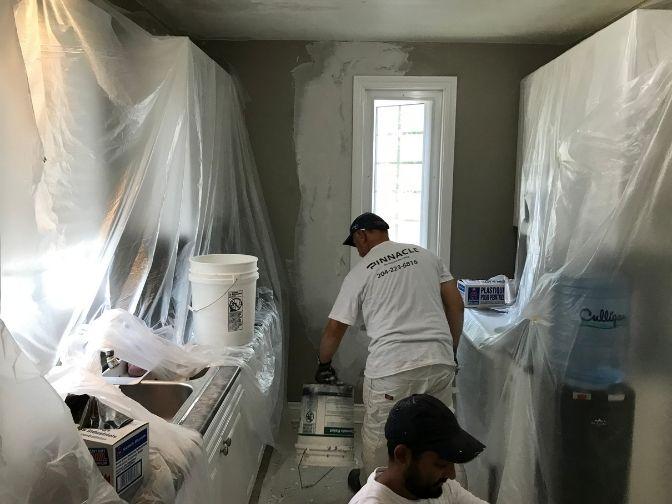 The challenge with any paint job is making sure that the product doesn't end up on other surfaces. You want to paint your walls, not your dining room table or hardwood floors. 
Whenever you come across a painting blog, you inevitably read the following advice: Use a drop cloth! Even the most experienced painters use drop cloths. They're like a safety net. On top of that, they're affordable and reusable. There's no reason not to use them.
Some people learn the hard way why it's essential to paint with a drop cloth. We wrote this post so that you don't end up as one of them. Here's why drop cloths are essential for any painting project:
Protect Your Floors
Sometimes, it seems like paint has a mind of its own. Be sure to cover the entire floor when you're painting.
There's no part of your home where you want paint splatters on the floors, but some areas are worse than others. Take a carpet, for example. If your black wall paint drops onto the floor, you'll need to schedule a carpet cleaning service (or replace it altogether). 
Your expensive hardwood floors will be worth much less if they're stained by paint splatters. Even if you spill paint on inexpensive vinyl flooring, it's a hassle to clean up or replace. 
Keep Your Furniture Safe
Can't move your sectional sofa out of the room you're painting? No sweat. Lay a drop cloth or two down on top of it, and you'll keep your furniture safe from paint splatters and drops. You can use as many drop cloths as needed to protect your furniture and decorations from paint.
Types of Drop Cloths
If you browse the painting aisle at a hardware store, you'll find drop cloths made in all kinds of different materials, including:
Canvas

(these are by far the most common; they're large and reusable)

Paper

(easy to adjust when you want to protect a specific area, like trim or the edge of a baseboard)

Plastic

(great for furniture, but too slippery for floors)
Cons of Drop Cloths
As useful as drop cloths are, they aren't always easy to work with.
Whether they're made of paper, plastic, or fabric, they can be slippery to walk on. An inexperienced painter could slip on the cloth and end up injuring themselves.
The next common issue is determining how many drop cloths you'll need. It's easier to estimate how many will be needed to cover your floor, but what about a sofa or a dining set? You don't want to head home from the hardware store only to find that you're a few drop cloths short. 

Leave It to the Pros
Not sure which drop cloth to choose? Dreading the idea of covering up your floors and furniture? Don't worry: Pinnacle Painting is here to help! We offer house painting in Winnipeg. Our professional painters will transform your home from top to bottom, whether you need interior or exterior painting. Book an estimate today!