22 Mar

The Importance Of Surface Preparation In Achieving A Quality Paint Job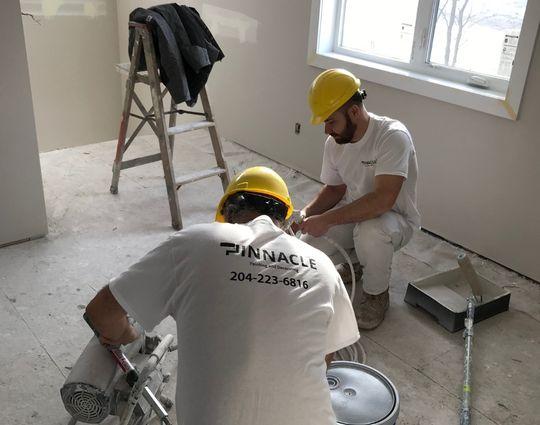 Did you know that you shouldn't just roll out a fresh coat of paint and hope for the best? Expert painters know that surface preparation is key to getting a new coat of paint to adhere properly. What can you do to make sure that your walls are ready for paint so a new coat can go on smoothly?
Take a look at just why surface preparation matters for your next paint job—and let the experts help you with professional house painting in Winnipeg!
Getting a Smooth Surface
Perhaps the most important part of the entire painting process is getting the surface as smooth as possible. Dust, pet hair, and other debris can cling to sheetrock and your previous coat of paint. It's imperative that you wipe down the walls before you move forward with painting.
Even if you can't see the debris with the naked eye, you should still wipe down interior walls with a microfiber cloth to create a clean surface. If you're doing an exterior paint job, you might want to consider power washing prior to your painting.
Without these crucial steps, the new paint job will not be able to adhere to the surface, leading to a sloppy paint job and peeling paint in the future.
Patching and Priming Before You Paint
As part of your surface preparation process, ensure you've patched all of the holes and smoothed out imperfections in the walls. Using cement patching compound, you can smooth out nail holes, dings in the sheetrock, and any other small imperfections. If you skip this step, you might find that a new coat of paint will show these uneven surface areas more clearly.
This is also a good time to apply exterior filler or wood filler if necessary.
Many jobs, including wood surfaces and even thick coats of old paint, can benefit from a coat of primer. Stain-blocking primers could be helpful if you have surface contaminants on the wall that you don't want to bleed through a new coat of paint.
Remove Old Coats of Paint
Not every job will require this, but you may want to consider stripping old paint for good paint adhesion moving forward. If the current surface has loose paint or peeling paint, you won't be able to properly paint over the entire surface with fresh paint. While challenging and sometimes expensive, this is one aspect of surface prep that you won't want to ignore.
Enlist Professionals To Help
Starting with good surface preparation is the most important thing you can do for your next paint job. From applying a stain-blocking primer to paint removal, Pinnacle Painting can ensure your surface preparation is done correctly so your paint job will have long-lasting quality. Give us a call today to learn more about how we implement proper surface preparation into every job we do.