22 Nov

Process Of Painting A Lobby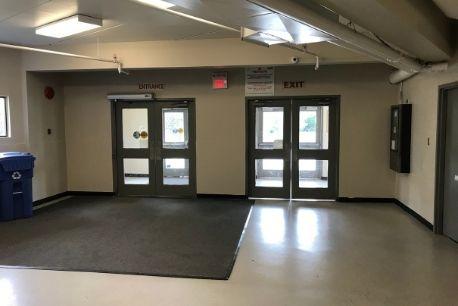 The lobby is where you can make a great first impression—or, a completely forgettable one. 
An outdated lobby might put off potential tenants. By repainting it, you can update its aesthetic and wow your tenants. A fresh paint job shows residents that your building is modern and well-kept.
But painting this area is a bit different than painting a bedroom. It's a high-traffic location where people are constantly shuffling around. As tenants move in and out, their bags bang against the walls, and their shoes drag mud across the floors. 
What can you do to ensure this project runs smoothly? If you're ready to repaint your lobby, here's what that process might look like:
Setting A Designated Time
If the walls are painted during a busy time of day (like in the morning or early evening), your painters will find it difficult to do a thorough job. 
It's better to choose hours when most of the residents will be asleep. This will minimize any disruption to their routines, and make it easier for your painters to work efficiently. If possible, let your tenants know which day you plan to paint.
Choosing The Right Paint
That bucket of cream-coloured paint looked great on the store shelf. But once it's applied to your walls, you realize it makes your lobby look washed out and bland. 
Before you move forward with your painting project, apply a small amount of colour to the walls. This will help you envision what the lobby will look like once the job is done. 
Along with the colour, you must also consider the quality of the paint. Think about how often the walls will be scuffed, bumped, and scraped. In a lobby, you need highly durable paint. If the lobby has a lot of windows, paint with UV resistance is your best bet. 
Cleaning & Preparing The Area
Next, it's time to clean the lobby. If you have an older building with a lot of residents, chances are that the walls are pretty dirty. Take the time to remove any residue, scuffs, and dirt. A professional painter can patch any holes or dents in the walls to create a smooth, even surface. 
Does your lobby have wooden trim, tiled floors, or glass doors? If so, you'll need to protect these other materials before you start painting. Lay drop cloths on the floor to protect the tiles from spills. Keep fresh paint off other materials by using painter's tape. 
Letting It Dry
A perfect paint job can be ruined by a single handprint. Once the paint is applied, you want to make sure it dries properly. You might section off the walls and display Wet Paint signs so that your residents know not to touch or lean against them. 
Create A Welcoming Space
When a lobby is newly painted, it will feel fresh, clean, and bright. If you own an apartment building, you'll want it to feel like home to your tenants. And if you're painting a hotel lobby, you'll want it to be welcoming to tired travellers. 
Once the paint dries, you can add a few finishing touches to make your lobby redecoration complete. Hang up some paintings or live plants to make the area more welcoming. 
Painting a lobby is a time-intensive task; there's a lot to consider before you can pick up your paintbrush. This is a job for a team of experienced commercial painters. 
At Pinnacle Painting, we're here to help. If you'd like to learn about our commercial painting services, you can find more info here.