26 Jun

How To Paint An Open Floor Plan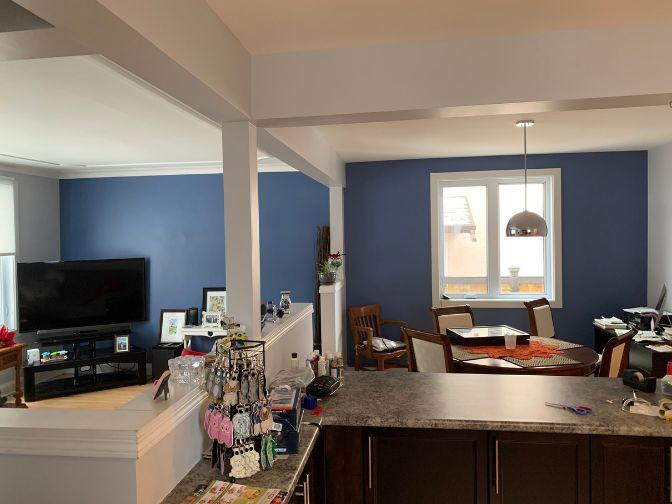 Interior design trends come and go each year, but it seems that open floor plans are here to stay. They create an atmosphere that's spacious, modern, and inviting. As alluring as an open floor plan can be, there's one challenge: How do you paint it? 
Typically, you rely on dividing walls to give your paint plan some structure. But you don't have that luxury with an open floor plan. The paint you choose will determine how well the open concept flows from one space to the next. 
You recognize a poorly painted room when you see one. Even if the paint was applied by a professional, the colours might look jarring, making the room feel disjointed. 
One of the main draws of an open floor plan is that it creates a unified, continuous space. Each room flows from one to the next without any walls in the way. You want to ensure that your paint is working for and not against you. 
So, how do you do it? Create an open floor plan that stands out (in a good way) with these painting tips:
Using a Colour Wheel
How will your chosen colours look together? You don't want to wait until after the paint is applied to find out. Don't worry: The process is easy with the help of an online colour wheel.
It's probably been years since you last looked at a colour wheel. Most of us became familiar with these in high school. They served us well in art class, and they're going to be a great help for painting an open floor plan.
Check out this interactive colour wheel by Canva. First, select your primary colour. Then, use the drop-down menu and select "Analogous". The tool will automatically show two analogous (or similar) colours to go with your primary choice. Now, you've got three colours to work with for your open floor plan.
Be sure to consider the undertones of the colours you choose. Even if two colours look similar on paper, different lighting conditions may emphasize contrasting undertones. Try to keep undertones consistent across the board, whether they're warm, cool, or neutral.
Selecting a Finish
While you can vary which colours you use, we suggest keeping the finishes consistent. If you apply a glossy paint on one wall, use paint with a similar sheen on the others. Otherwise, it may create an incoherent look. For most interior spaces, a semi-gloss or satin finish will do the trick.
Dividing the Space
The whole point of an open concept room is to make the area feel spacious and airy. Still, you may want to use select colours to create some separation between the living room and the kitchen. Keep things light in the kitchen with off-whites, greys, and yellows; then, dial up the drama in the living room with bold purples, rich greens, or deep blues. 
Do you have any half walls or partial dividers? Use a darker colour to emphasize where one ends, and another begins. Alternatively, if you want to draw attention away from those edges, use whites, baby blues, and pale yellows. 
Call Pinnacle Painting Today!
At Pinnacle, we take the pain out of painting. Our painters in Winnipeg are always up for the task, whether it's painting a stucco exterior or drywall repair. Need a hand with designing your open floor plan? Contact us today!