22 Jun

Here's A Fun Way To Add A Little Colour To Your Office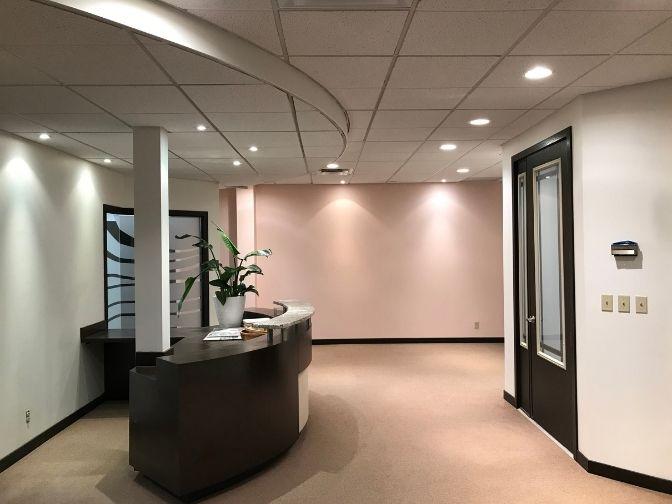 Got a case of the Mondays? It could be due to all the white and grey walls in your workspace. When your focus wavers, your eyes drift around the office and search for something to give you an extra boost. But if your cubicle lacks any artistic designs or vibrant colours, it might create a gloomy atmosphere.
You want to make the workspace brighter without adding something that's over the top. An office needs balance, or you risk creating a work environment that feels cluttered and distracting.
If you're looking for design inspiration, you're in luck. We've put together a few paint techniques you can use to decorate the office:
Paint the Doors
Do you notice the colour of a door when you walk into a room? If not, that's probably because it's a shade of white, grey, or brown. 
We aren't saying that you need to paint each door fire engine red. But you can use a bold colour like blue, green, or orange to add colour that won't overpower the room. A colorful door can be surprising and powerful in an office.
Tone Down Bright Colours
There's a middle ground between neon green and eggshell white. Mix the two colours together and you get a pleasing shade of mint.
If you aren't ready to commit to a bright colour, opt for a shade that's been watered-down with white or grey. A pale tint of blue can help your employees stay focused. Using a pop of pastel purple, red, or green can add colour without being too distracting. 
Add a Wall Mural
There's a blank white wall near the entrance of your office, and you aren't sure what to put there. Rather than hanging a portrait or picture frame, why not add art to the wall itself? A professional painter can design a mural that is professional, relevant to your business, and pleasing to the eye.
Paint the Window Frames
Every office needs windows. Natural light can boost our energy levels; something about those sunny rays gives us an extra pep in our step. 
Draw extra attention to your windows by painting the trim. It's a great opportunity to use an accent colour like yellow or violet. Surround the window with a bright colour to emphasize those warm beams of sunshine. 
Use a Selected Group of Colours
Adding a bright blue or fiery red here and there can be tasteful, as long as you keep things consistent. We recommend choosing a few accent shades that complement your brand's logo or are a brighter variant of your signature colours. For example, if your logo is dark green, a few pops of chartreuse will be on-brand and vibrant.
You want to spice up the office without making it feel disjointed. Keep things cohesive by using shades that match your branding.
Once you're done redecorating the office, your employees will be excited to see the changes. Getting creative with paint can give your office a fresh new face.
Ready to get started? With our office painting services at Pinnacle Painting, we'll help you design an office that's sophisticated and colourful. Contact us today to receive a free estimate for your project.