16 Jun

Condos and Apartment Buildings Colour Trends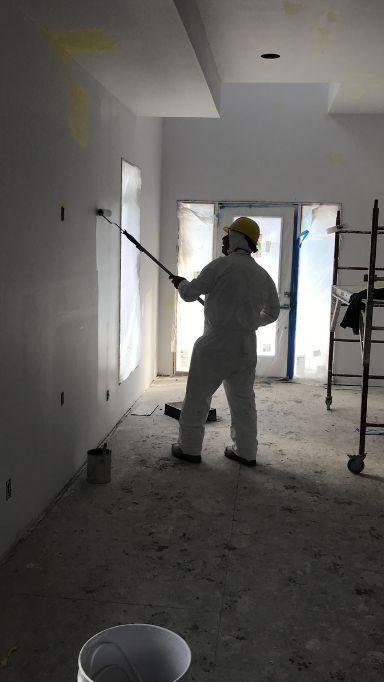 So, you are looking to paint a multi-family building.
This exciting task has a ton of potential to attract exactly the clientele you are looking to hook in a crowded marketplace.  It also has the potential to repel them!  Few things can draw admiration or scorn quite as quickly as the new paint job on a prominent building.
Selecting the right colours for your apartment or condo building is not as simple as just holding up a few paint chips and selecting the ones you like best.  Whether you want to create a trendy and inviting exterior, a cozy and bright interior, or anything in between, there are a lot of factors to consider when choosing colour schemes – especially when you're hoping to please many different potential investors.  
Painting (or re-painting) takes a lot of time, effort, and money.  You want to be sure the results will provide the atmosphere you envisioned.  Let's take a look at some important considerations to keep in mind when painting multi-family buildings:
Exterior Paint Trends
For multi-family buildings, there are three main factors you'll want to consider when selecting a colour scheme:
The building's architecture.

  What features can you accentuate, and what natural lines can you use to your advantage when breaking up your colour palette?
The location. 

While you want your building to stand out (in a good way), you also want its colour scheme to align with its surroundings.  Pay attention to the vibe of the neighbourhood and consider prominent regional colours as well.  For instance, bright colours might be out of context in a high-end suburb, but perfect in a funky up-and-coming part of town.  Beachy colours might be perfect near a lake but not as appropriate downtown.
The clientele. 

Consider the potential buyers or renters you hope to attract.  Are you catering to young families, professionals, seniors, or vacationers?  The paint colours you select will send a clear message to your clients.  Make sure it is the right one!
According to Sherwin-Williams, trending exterior colour schemes currently range from warm or cool neutrals to earthy tones to hints of the ocean.  Check out their colour combinations here.
Interior Paint Trends
According to Veranda Home, interior colour trends for 2022 include Grey-Green, Earthy Tones, Citron, Deep Aubergine, Chartreuse, and Warm Neutrals.  
But sometimes trendy isn't your only consideration.
When you're painting small spaces like apartments and condos, you also want to take into consideration colours that will make the units feel spacious and bright.  Additionally, you may want to evoke feelings like cleanliness, warmth, cheerfulness, and more.  
Colours can be a bit magical in the way they impact us as humans, so consider your goals before selecting a colour scheme.  Keep in mind that lighter colours generally make small areas feel more spacious.  Sky blue brightens up a darker space.  And warm neutrals can make a long hallway feel cozy and welcoming.
The Right Contractor
Ultimately, no matter what colour scheme you end up selecting, the result will only be as good as the Winnipeg painting contractor you hire.  Pinnacle Painting and Decorating is a company with an outstanding reputation for high-quality work and attention to detail.  Call today to book your estimate.