30 Dec

5 Tips For Painting Your Rental Property's Interior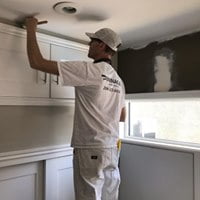 An apartment with dingy walls that need to be repainted will be a put off for potential tenants. Interior paint is both a practical need and an aesthetic boost for rental properties. Just like exterior paint helps shield a building from weather elements, interior paint serves a similar purpose of sealing out moisture to prevent the growth of mould and mildew. A fresh coat of paint also renews the house after a tenant moves out. Whether you're painting the rental units for the first time or in preparation for a new tenant, here are some pro-tips to get you by:
Get the preparation right
Bearing in mind that no paint can properly cover dirty and uneven surfaces, you need to first prepare the walls. If the previous tenant had kids, the walls most likely have some marks and stains. Wipe the walls with a wet cloth to clear lighter stains. For the more stubborn stains, you can use a scrub brush. To fill any cracks and holes, use a putty knife and wood filler. Then to remove loose, flaking paint, use a scraper then smooth the surface with sandpaper. Newly plastered walls may need considerable scraping and sanding to smooth the surface. Basically, the walls should be clean and smooth before you can embark upon painting.
Purchase high-quality equipment & paint
Price differentiation for paint and painting equipment in the market has a lot to do with quality. Cutting corners when selecting either will affect the end results. Painting tools include brushes, rollers, and airless sprayers. Each piece of equipment has a different price and performs a different duty. It goes without mentioning that high-quality paint gives the best results that last the longest.
Choosing the wall colour
When a renter walks into your rental unit, they visualize their belongings in the house. While bright colours may seem like a great option for the bold statements that they make, they may hamper on different people's decorating taste. Instead, opt for lighter shades of attractive neutral colours that will accommodate many people's tastes and design choices.
Choosing the ceiling colours
If your rental units are small in size, you can create an illusion of a more expansive space by the choice of paint colour. Painting the ceiling a lighter colour than the walls will make the rooms feel higher and space look larger. Although you could use a lighter shade of what's already on the walls, white generally cuts  across wider tastes and preferences. A darker shade on the ceiling will create the illusion of a lower ceiling for those that are particularly high.
Consider weather
How the paint dries depends on the type of paint you use but also on the temperature and conditions at the time of application. While there aren't many limitations for painting the interior as there are for the exterior, the temperatures need to be right. If the surfaces of the walls have any moisture on them, you'll need to wait until they are completely dry. As a basic rule of painting, the more humid the weather, the longer the paint will take to dry.
Ready to paint the interior of your rental property? We have a record of success in both residential and commercial painting in Winnipeg. At Pinnacle Painting, we serve all our customers with professionalism, reliability, and efficiency.